The #2 Rated Insomnia Product: FibroSleep
FibroSleep - #2
Insomnia Product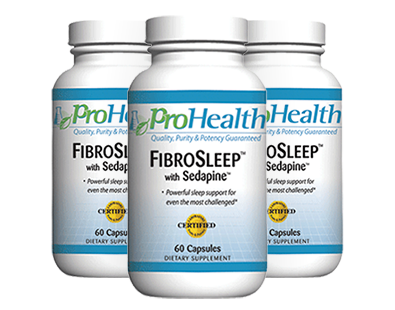 Supplement Facts
Servings Size: 2 Capsules
Servings Per Container: 30
Amount Per Serving
%DV
Magnesium
100mg
*
ZMA® ZMA-2000 (Zinc Mono-L-Methionine Sulfate, Zinc/Magnesium Aspartate and Vitamin B6)
100mg
*
L-Theanine
100mg
*
GABA (Gamma aminobutyric acid)
100mg
*
Lemon Balm (Melissa officinalis) (leaf)
90mg
*
Ginger (Zingiber officinale) (Root)
70mg
*
L-5-Hydroxytryptophan (5-HTP) (From Griffonia Seed Extract) (Griffonia simplicifolia)
50mg
*
Peppermint (Mentha piperita) (Leaf)
50mg
*
Hops 4:1 Extract (Humulus lupulus) (Strobile)
12.5mg
*
Melatonin
3mg
*
Sedapine™: Jujube Seed 4: 1 Extract (Ziziphus jujuba), Corydalis Bulbosa 4: 1 Extract (Corydalis bulbosa) (Root), Valerian Root Extract (NLT 0.8% Valerinic Acid) (Valeriana officinalis) and Passion Flower (Passiflora incarnata)
362.5mg
*
* Daily Value (DV) not established.
Other Ingredients: Gelatin, Magnesium Stearate, microcrystalline cellulose and water.
According to ProHealth FibroSleep, this all natural sleep aid capsule is ideal for those who deal with insomnia caused by some of the most common causes - such as stress or anxiety. This sleep aid is meant to relax you before bed so you can have a full night's sleep.
EDITOR'S RATING
38 User Reviews
Introduction
This is a review for ProHealth FibroSleep (with Sedapine) capsules. According to the company, this product is ideal for those who deal with insomnia caused by a variety of different reasons. Some common causes of sleep disorders can derive from anxiety, stress, and tenseness. This sleep aid combines many natural ingredients to provide a range of benefits to ensure that you benefit from a full nights sleep. Please keep reading to see if this review is ideal to help you overcome insomnia.
Ingredients
The ingredients for this product include the following:
Corydalus Root (Corydalis solida)
Passion Flower (Passiflora incarnate)
Valerian Root (Valeriana officinalis)
Ziziphus Spinosa Seed
Other ingredients include:
Lemon balm leaf
Ginger root
Hops flower
Peppermint leaf
Magnesium
5-HTP
L-theanine
ZMA (zinc magnesium)
Dosage
According to the company's website, it is recommended to take 1 to 4 capsules of ProHealth FibroSleep with a full glass of water at least 30 to 60 minutes before bed.
Possible Side Effects
The manufacturer states this product has no residual effect on the body and can be tolerated on a regular daily basis. This means you will not feel groggy or drowsy the next morning. While the company does state this product is made with "safe" ingredients they do recommend you speak with a physician if you have an existing medical condition or are currently taking a prescribed medication. You should also speak with your doctor if you are a woman who is pregnant or nursing or have any food allergies.
Price
The price for one bottle of ProHealth FibroSleep is $32.49 for 60 capsules. The company does offer a Smart Savings club where consumers are able to save up to 40% if they order regularly. Our experience shows that these auto ship membership programs can be difficult to cancel once they are in place, so we always advise checking out the small print of such companies and their offers.
Guarantee
Consumers get a 60-day money back guarantee with ProHealth FibroSleep. This means if you are unsatisfied for any reason with the product or the results it gives, you can return it for a full refund. All you need to do request a return authorization number and then ship back your bottles.
Conclusion
ProHealth FibroSleep seems to be a solid product. The company makes sure to provide as much information about the product as possible and also has a strong satisfaction guarantee. The guarantee will allow you to test the product for an extended amount of time without you having to worry about losing your money on a product which did not work for you. Perhaps one of the negative aspects of this product is that to save significantly, one must become a member and relinquish our credit card details leaving us open to charges that perhaps we did not agree to. We suggest that you read the small print. It is best to always consider all elements prior to choosing a sleep aid for you.
Click here to learn about our top Sleep Support Products.
Bernard Spradlin
reviewed on and gave it a rating of
3
.